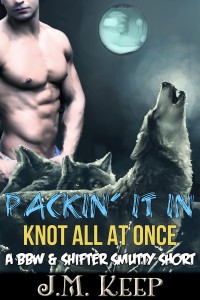 She was trying to get away from virile shifters when she was ovulating, damn it!
Heather had just given birth to a litter of werewolves, and for the next full moon, she figured she should get away from the four dominant, growling, snarling, hairy men that she'd imprinted on.
When her car breaks down – again – she's at the mercy of the three, sexy bikers who offer her a lift to the gas station. Except it's abandoned. And starting to feel like a bad horror movie. It could only mean one thing – they were definitely werewolves.
But, hey, maybe the moon's affecting her a little too. A lot affecting her. The alpha of the gang takes the time to warm her fertile and curvybody up, but when her pack shows up and there's the threat of a real fight, she knows there's only one way to soothe the savage shifters.