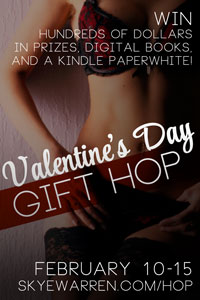 We know, it's not for a couple of days, but still. Valentine's is slowly, kind of, a little bit becoming a favourite day for us. Maybe it's just that we're becoming a little less rebellious, and a little more appreciative of an opportunity to do something nice for one another.
Regardless, we're having a nice little dinner, and we want to make sure everyone else is as filled with lust as we are 😉
We're going to do something pretty unprecedented for this. We want to absolutely fill your kindle or ereader with absolutely sizzling books, and you know what? We have enough stories just by ourselves to keep you busy for at least the rest of February!
We're going to give five readers all the books we published in 2013! That's over 60 shorts, novellas, and novels, all filled with sexy and seductive characters and plots.
All you have to do is comment 🙂
Plus, we've gotten together with a bunch of other authors and bloggers willing to give you free stuff too! Check them out below: